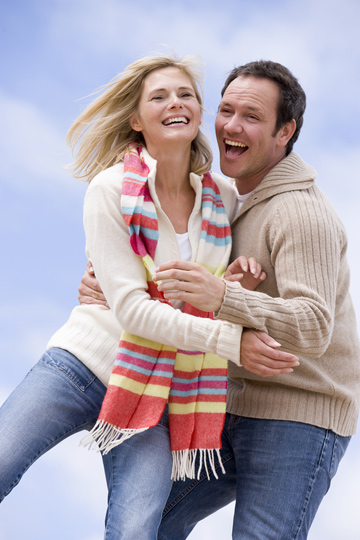 Television commercials are known for portraying all of the dangerous and potential risks associated with various medications, so it should come as no surprise to hear that any medicine, whether over-the-counter or prescription carries a list of possible side effect warnings. Adults who are finally ready to take action to get rid of their unwanted fat and excess pounds need to be aware of potential HCG shot side effects before beginning this diet.
With any treatment, it is always important to compare the possible risks associated with the prescribed protocol to the dangers of not taking action. Many people might assume that being overweight is just a problem for appearance, but the risk factors faced here are more dangerous that those potential side effects of HCG shots.
The chart below compares the risks of obesity (body weight at least 20% higher than ideal, or BMI over 30) to the risks arising from HCG shots:
| | |
| --- | --- |
| RISKS ASSOCIATED WITH OBESITY | RISKS ASSOCIATED WITH HCG SHOTS |
| Diabetes | Fluid retention |
| Heart disease | Headaches |
| Stroke | Depression |
| Sleep apnea | Breast tenderness |
| High blood pressure | Pain at injection site |
| Gallstones and gallbladder disease | Irritability |
| Some cancers | Blood clots |
| Asthma | |
| Osteoarthritis | |
| Gout | |
| Depression | |
This chart illustrates how HCG shots for weight loss side effects are nothing compared to what can happen if a person does not take action to reverse his or her obesity. The long-term ramifications and consequences are quite severe.
How to Reduce the Risks of HCG Shot Side Effects
The best way to reduce the risks of HCG shot side effects is by losing weight under a doctor's supervision. The more overweight a person is at the start of his or her diet, the more important it is to be under a doctor's care while undergoing HCG shots.
The prescribing physician should be experienced in HCG weight loss in order to ensure that all precautions have been taken to determine if the individual qualifies for this particular type of weight reduction program. HCG injections provide a way for people to lose their unwanted pounds at a very rapid rate by limiting daily food intake to no more than 700 calories.
In order to avoid side effects of HCG shot administration, it is essential to consume all 700 calories as directed, even if you are not hungry. People often ask how a person would not be starving eating only that small amount of food. Here is the answer:
HCG combined with vitamin B 12 helps to supply energy to the body
HCG sends a signal to the brain that the body is not hungry, reducing the chances of hunger headaches and weakness
This same HCG signal tells the body to utilize stored fat for additional fuel
Vegetables have very little calories and are high in nutrition
Lean protein also offers superior nutritional benefits
The HCG diet doctor will monitor progress to ensure that proper weight loss is occurring without any adverse effects.
Using Real HCG Shots to Reduce Side Effects
The other way to reduce any HCG shots side effects is by using only real HCG injections to facilitate rapid weight loss. Some people turn to the drops and pills that they find advertised on the internet, or they pick up a box from a store shelf that claims to be HCG. Please note that real HCG is only available in the form of an injection. This is what will help you be able to stay on the HCG diet without serious side effects while accomplishing losing up to a pound a day, or more.
In order to avoid HCG shot weight loss side effects, it is crucial to follow the plan as prescribed. Not only will this accomplish the maximum return for one's money – translation: amazing weight loss – it will help to reduce the possible risks that could arise.
Who are we? Weight Loss Medical Center is an HCG diet clinic that enables adult women and men throughout the US to reduce the concerns they may have for their health caused by being overweight. We provide the finest HCG diet program to aid in this weight loss. Our national clinic has already helped countless individuals redefine their lives through the shedding of unwanted pounds. Now we want to help you get the body you desire. Contact us for a free consultation with a weight loss medical advisor to find out if the HCG diet is the best option for you.